Rohingya refugees in Bangladesh

- from a silent crisis to a screaming disaster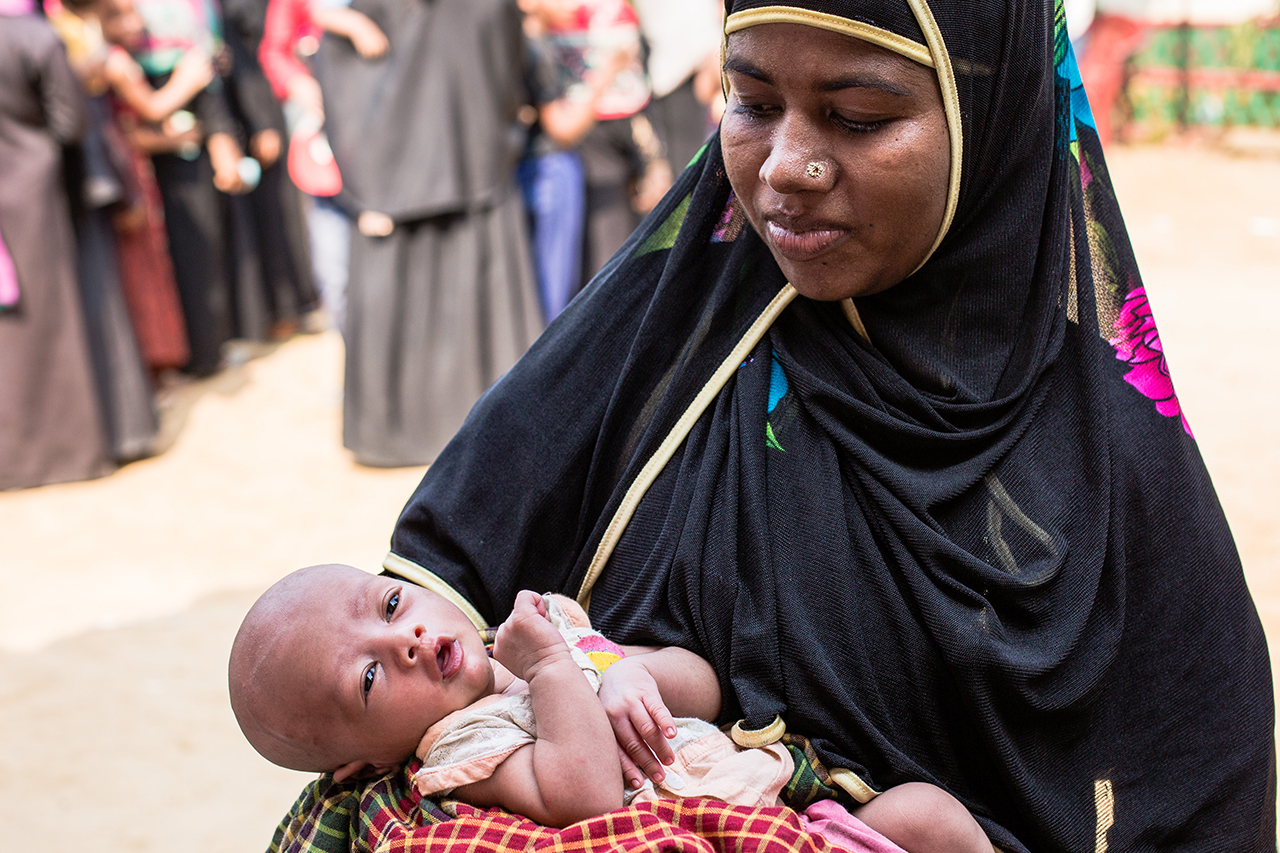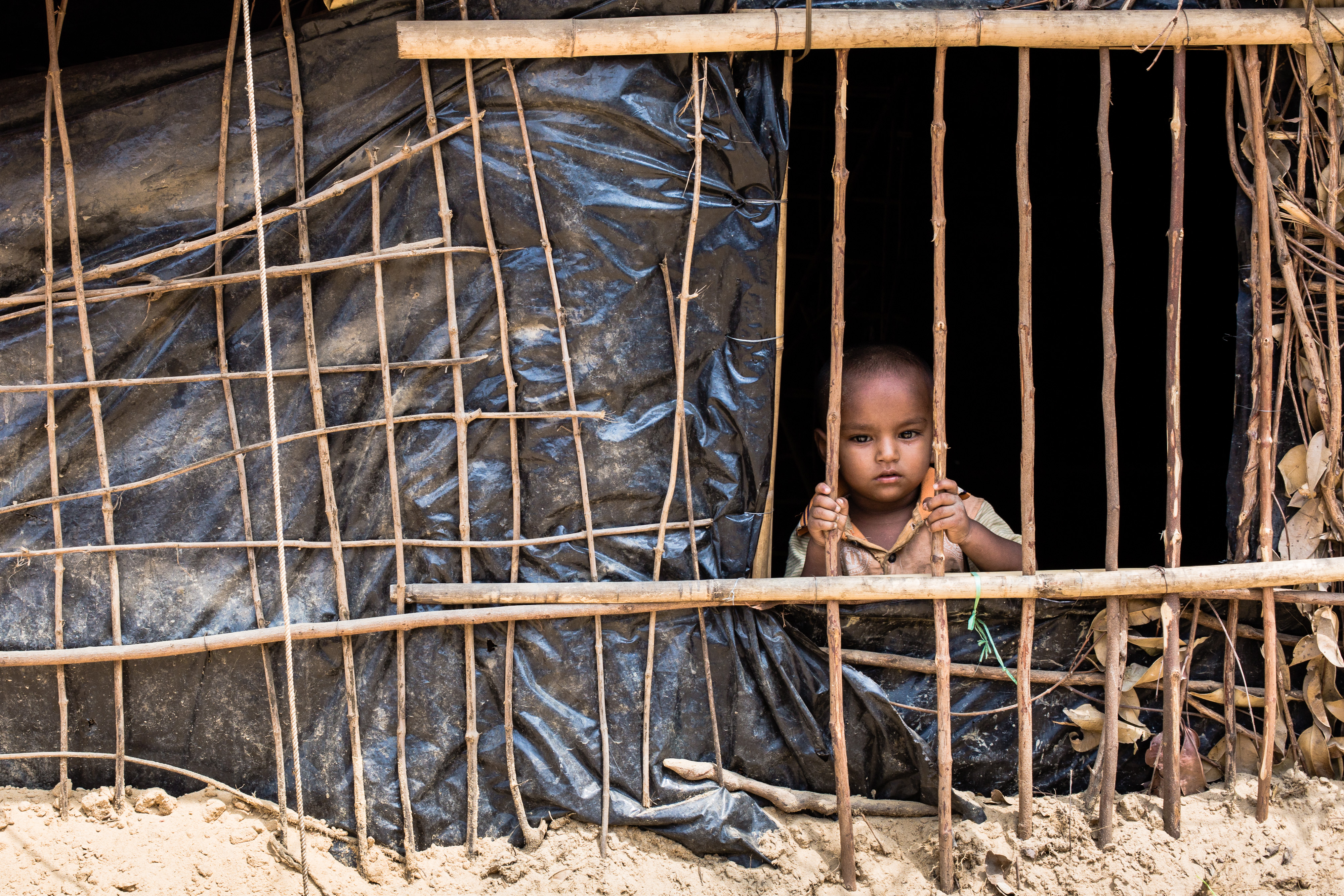 Running barefoot, 22-year-old Mohsena deftly dodges the sharp bamboo poles which jut out from the roofs of the shelters lining the narrow dirt path. One of these flimsy structures made with little more than wooden sticks covered with plastic sheeting is home to Mohsena and her family.

She hurries inside and bends down to pick up her sobbing 4-year-old son. He is disabled and looking after him requires her full attention. She left him alone briefly to fetch water from the nearby well, but his cries were so loud she had to turn back.

"He can't walk or barely sit. I can't go very far from him," says Mohsena. "I feed him and clean him and carry him everywhere. But it gets too heavy to hold both my son and the water, so sometimes I must just leave him".

It's been three months since Mohsena and her two children fled from her home in the north of Rakhine State in Myanmar. They crossed the river that forms a border with Bangladesh and now live in an unplanned settlement on the outskirts of Kutupalong refugee camp in the district of Cox's Bazar.

This and other makeshift camps in the district are hosting tens of thousands of Muslims who fled an upsurge of violence in areas in the north of Rakhine State which began last October.

"My husband was not with us when we came, and he will never again be with us. I was told he has been killed. Now I have nobody to turn to, nobody to help me. Sometimes I feel my life is ruined," says Mohena.


As a mother, her main concern is taking care of her family. But as a young widow with two children, everyday life in the makeshift camp is a struggle.

"I got some money by begging, but don't know what I will do after it's gone. We have barely enough food to survive and our stomachs never feel full. Sometimes we don't know when we will have our next meal."

Food is not the only thing they are lacking. Mohsena explains that there is very little clean water, and dozens of families have to share one toilet. The approaching rainy season is also making her anxious. Her flimsy shelter offers little protection from the scorching sun let along a tropical downpour.

"When the storms come, where will we take shelter? How can I protect my children then? I am so worried, I don't sleep properly anymore."

The Bangladesh Red Crescent Society (BDRCS) has distributed thousands of tarpaulins that allow people to make weatherproof shelters in the makeshift settlements. Food, blankets, water containers and other relief items have also been provided to families who arrived with next to nothing.

Among the migrants are women and children who made the journey from Rakhine unaccompanied. For some, sharing stories of trauma and violence they suffered brings both relief and pain.

"I'm telling my story because I want everyone to understand that we came here just to save our lives," says 25-year-old Rabeya.

"Sometimes, when I remember everything that has happened, I feel like dying".

Rabeya recounts how she was assaulted. The pain, she says, was so extreme that she lost consciousness.

"When I woke up, all my clothes were torn and I was bleeding badly. I was three months pregnant but lost the baby."


Together with her husband and two children she fled to Bangladesh.

"Even if you offer me the finest meal on a golden plate, I would not feel inner peace. How could we leave all this pain behind and live happily again?" she asks.

"All I want is for my family to be safe."

For the International Red Cross & Red Crescent, Bangladesh, 2017.

See also this story by CNN with my photos & interviews of the Rohingya.